AR-MF 60 MASKED TYPE CBRN FILTRATION SYSTEM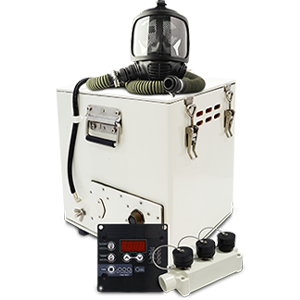 MARS CBRN provides a range of reliable and high-performance products fully adapted to the fight against CBRN terrorism and covers any emergency situation, particularly in border control situations.
Why Choose MARS AR-MF60 Masked Type CBRN Filtration System
We make customer-specific production. Our designs are specially made according to vehicles and standards.
Full-face panoramic view for unobstructed situational awareness
Integrated hydration tube is compatible with CamelBaks and canteens for a safe and convenient drinking system
20-year shelf life
Trusted by police worldwide and government entities in the Czech Republic, Norway, Portugal, Chile, Saudi Arabia, Turkey, Kuwait, Latvia and Lebanon
Durable bromobutyl rubber construction (meets CBRN protection standards)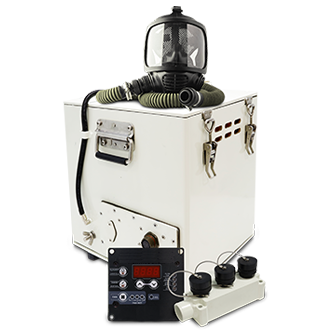 Full-face panoramic design with a large visor to enable a wide-angle view
Hypoallergenic inner mask prevents fogging, even under hard use 
Tested resistance to mustard gas penetration for nearly 30 hours
Helmet-compatible
Fits up to 2 standard 40-mm 1/7" NATO filter cartridges (widely available with varying protection levels)
Comes with a pre-installed hydration system and canteen. The canteen has a capacity of 900ml. 
Compatible with CamelBak water bladders with a Type M adapter (not included)
Used for industrial, agricultural, law enforcement, professional rescue, specialized welding, construction and painting applications
Conforms to European quality and sustainability standards, marked with the CE symbol
Meets all requirements under EN 136:1998, Class III
Complies with all standards under EN 168 for impact protection, making this the perfect mask for riot control situations 
Compatible with the TAPR-M Microphone and RVA (A.01) VPU Unit
Manufactured in the TÜRKİYE
AF-60 Masked Type CBRN System designed and produced by MARS engineers in accordance with MIL-STD-1472 requirements with an ergonomic structure as per standards such as NATO AEP54, MIL-STD-810, MIL-STD-461. Protection of the crew against chemical, biological, radiological and nuclear threats is provided by blowing adjustable fresh air filtrated by masks within the vehicle attached to private separate lines for each user with AF-60 Masked Type CBRN System which has 60m3/h air flow rate. Gas and Particle filters in the system designed to be easily attached and removed, provides maximum speed during movement to hot zone.
AF-60 Masked Type CBRN System is ergonomically designed in accordance with standard MIL-STD-1472 and manufactured in accordance with standards such as NATO AEP-54, MILSTD-810 and MIL-STD-461 requirements by MARS engineers . With the AF-60 Masked Type CBRN System with an air flow rate of 60m3/h, adjustable filtered clean air is transmitted to each user in the vehicle with masks connected to separate lines, ensuring the protection of personnel from chemical, biological, radiological and nuclear threats. The Gas and Particulate filters in the system are designed to be easily disassembled and mounted, thus providing maximum speed in the war zone area.
| | |
| --- | --- |
| Air Flow Rate | 60m³/h (35cfm) |
| Operation Temperature | -32°C — +49°C |
| Storage Temperature | -40°C — +63°C |
| Operation Voltage | 28V DC |
| Current | Max. 7,5A @ 24V DC |
| Weight | ~25kg |
| Dimensions | 330 x 370 x 440 mm (Width x Depth x Height) |
| Filters | ''HEPA'' filter for particle filtration ''Activated carbon'' filter for gas filtration |
| Number of Crew To Be Protected | 7 (optional) |