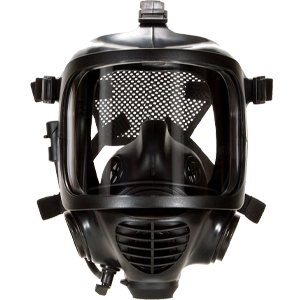 Tactical Gas Mask – Full-Face Respirator for CBRN Defense
Why Choose MARS CBRN Gas Mask 1
We make customer-specific production. Our designs are specially made according to vehicles and standards.
Trusted worldwide by multiple police and government agencies in the Czech Republic, Norway, Portugal, Chile, Saudi Arabia, Turkey, Kuwait, Latvia and Lebanon
Full-face panoramic view for unobstructed situational awareness
Integrated hydration tube is compatible with CamelBaks and canteens for a safe and convenient drinking system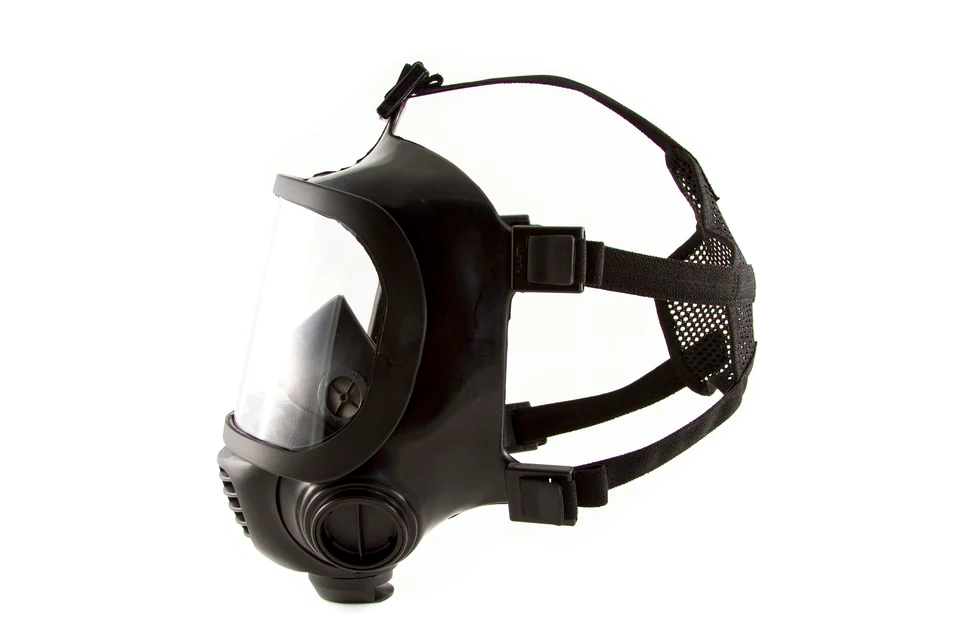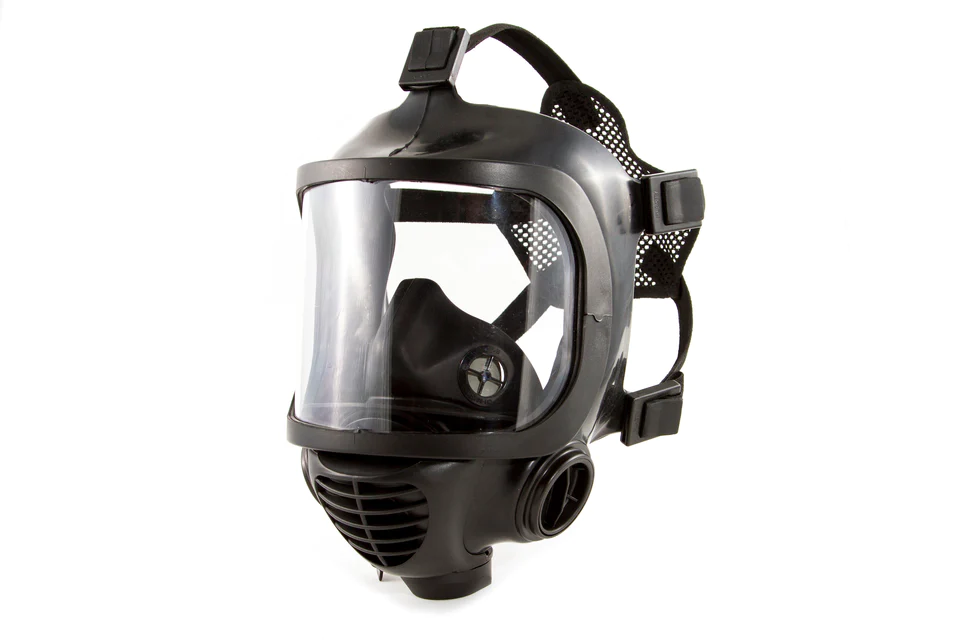 Key Features of the CBRN Gas Mask 1 Tactical Gas Mask:
20-year shelf life
Trusted by police worldwide and government entities in the Czech Republic, Norway, Portugal, Chile, Saudi Arabia, Turkey, Kuwait, Latvia and Lebanon
Durable bromobutyl rubber construction (meets CBRN protection standards)
Full-face panoramic design with a large visor to enable a wide-angle view
Hypoallergenic inner mask prevents fogging, even under hard use 
Tested resistance to mustard gas penetration for nearly 30 hours
Helmet-compatible
Fits up to 2 standard 40-mm 1/7" NATO filter cartridges (widely available with varying protection levels)
Comes with a pre-installed hydration system and canteen. The canteen has a capacity of 900ml. 
Compatible with CamelBak water bladders with a Type M adapter (not included)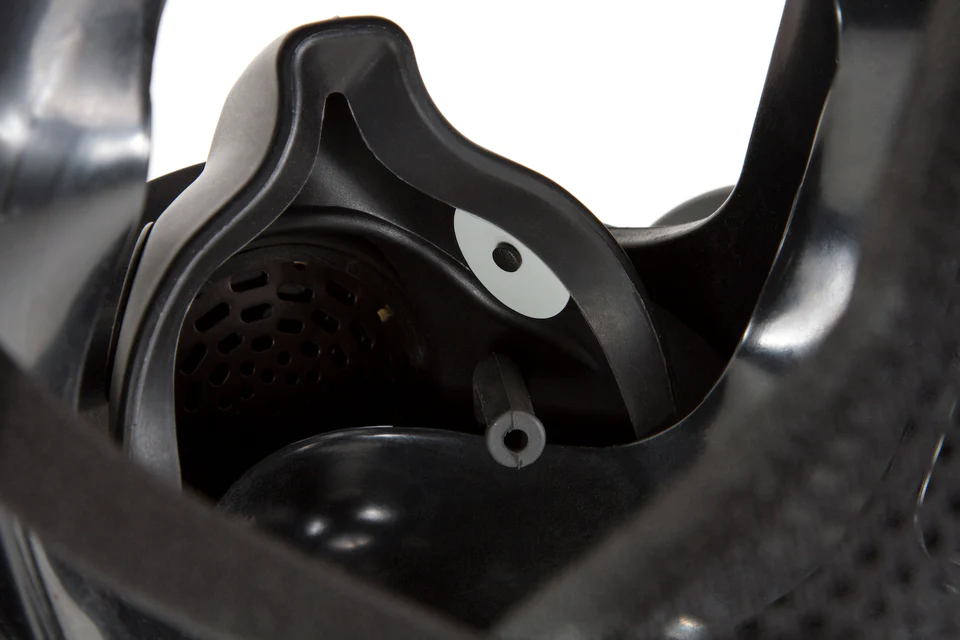 Used for industrial, agricultural, law enforcement, professional rescue, specialized welding, construction and painting applications
Conforms to European quality and sustainability standards, marked with the CE symbol
Meets all requirements under EN 136:1998, Class III
Complies with all standards under EN 168 for impact protection, making this the perfect mask for riot control situations 
Compatible with the TAPR-M Microphone and RVA (A.01) VPU Unit
Manufactured in the Türkiye
TECHNICAL SPECIFICATIONS
The CBRN Gas Mask 1 Tactical Gas Mask has a facepiece of tough bromobutyl rubber (CBRN-compliant) for maximum resistance to TIC/CWA contaminants. The full-face respirator's inner mask is made from a special hypoallergenic compound that ensures excellent tightness and avoids exhaled air contact with the visor to prevent fogging. It also reduces carbon dioxide(CO2) content in the mask's inner space, which together with its favorable inhalation/exhalation breathing resistance, decreases the physiological burden for the user—providing more comfortable and practical all-day use.
The integrated speech diaphragm ensures at least 95% intelligibility of speech, allowing for easy communication with other members of your party. The mask is equipped with a five-point rubber-textile head harness to ensure a snug and lasting fit.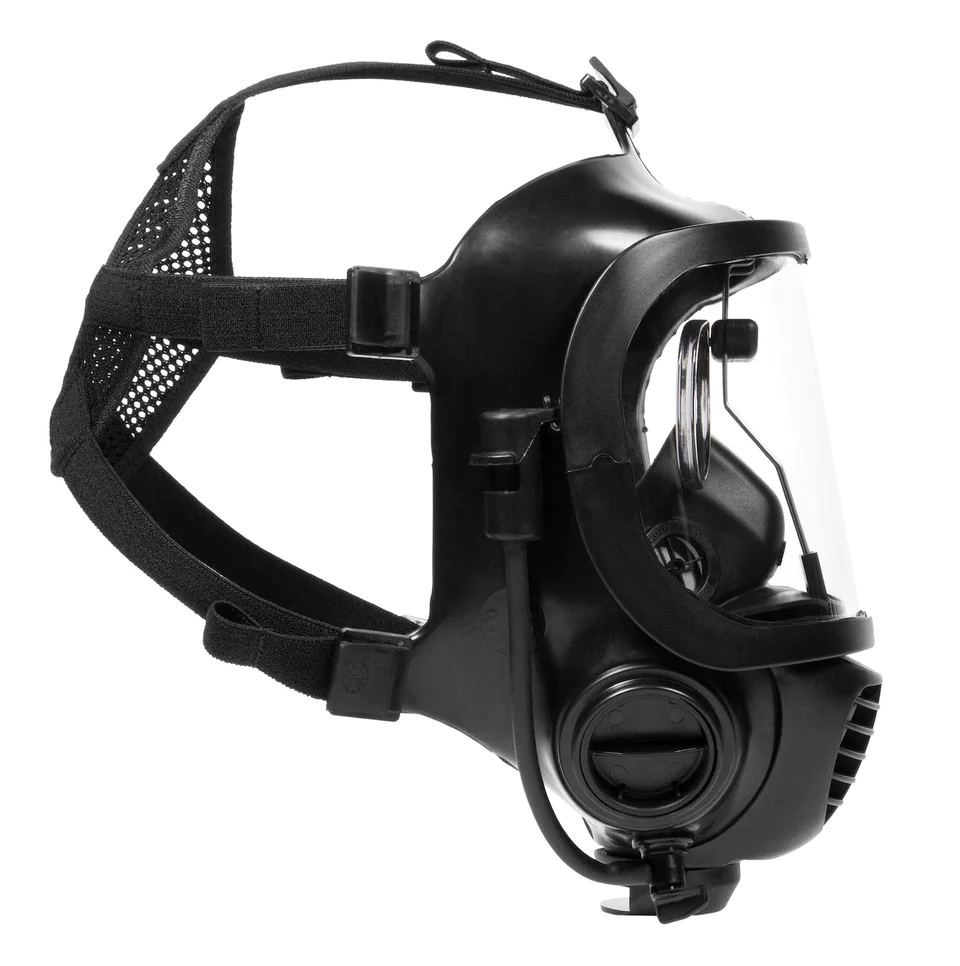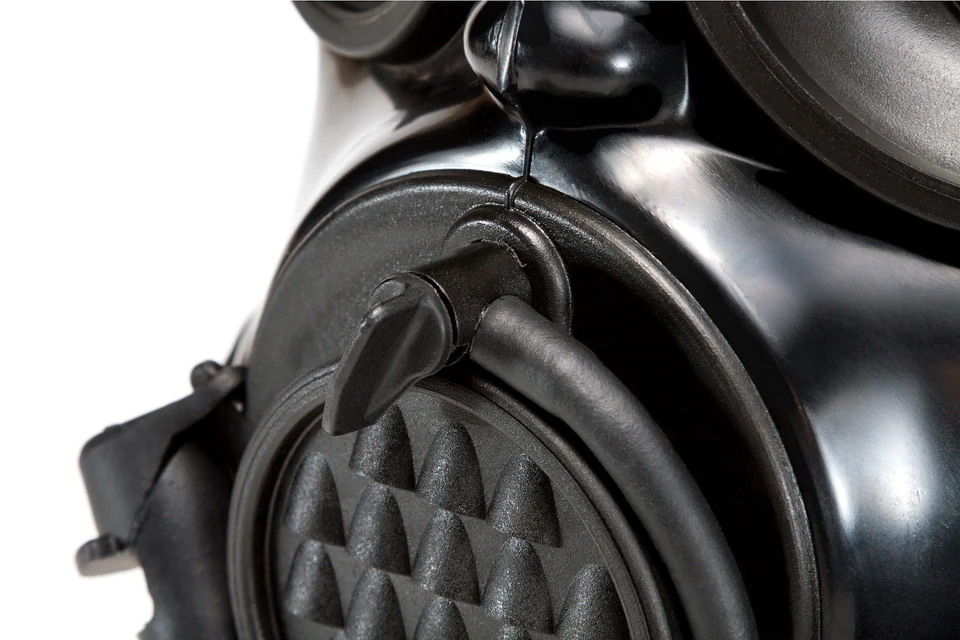 The CBRN Gas Mask 1 CBRN gas mask is produced in one size. To ensure proper functioning, the user's face must be smooth, free of facial hair, sideburns and other hindrances at the points of contact.
The tactical gas mask is compatible with the 3M Safety 6878 Spectacle Kit (sold separately), with simple installation for those who are vision impaired and prefer not to wear contacts. 
The filter is fitted to the mask by screwing to the left or right inhalation chamber. The unused chamber (without filter) is sealed with an inhalation chamber plug. It is necessary to ensure the plug is properly screwed and tightened. 
TECHNICAL DATA
| | |
| --- | --- |
| 560g | 95% |
| 1 size | bromine-butyl rubber |
| Effective field of vision. 77.6% | polycarbonate |
| Overlapped field of vision. 83.8% | Rd 40 x 1/7″ |
Breathing resistance at 30l/min. air flow:
STORAGE
The CBRN Gas Mask 1 tactical gas mask must be stored in a dark, cool and dust-free place free from sudden temperature changes. The storage room should be ventilated regularly. Temperatures may vary between 10°C and 25°C within relative humidity up to 65%. Full face gas masks must not be exposed to radiant heat or sunshine. Fuels, solvents, lubricants and other inflammable substances, including chemicals, must not be stored with masks. Moreover, there must not be any electrical machines or appliances that produce sparks or discharges during operation (ozone creation).
Avoid deformation of the rubber parts of the facepiece and internal CBRN gas mask during storage.
Inhalation chambers of the CBRN Gas Mask 1 mask are ONLY compatible with Rd 40 x 1/7" thread in accordance with the EN 148-1 standard.
Selection of a suitable filter depends on the type and concentration of anticipated toxic agent. The CM-6M tactical mask equipped with a TIC or CWA filter is only safe for use in an environment containing at least 19.5% oxygen. The principles of filter selection and application are described in the filter user guides.
The CBRN Gas Mask 1 tactical gas mask may be used in class 1 explosive environments only. The CBRN Gas Mask 1 mask meets all of the requirements for class 3 of the EN 136 standard. It's a great choice for riot gear or as a riot control gas mask.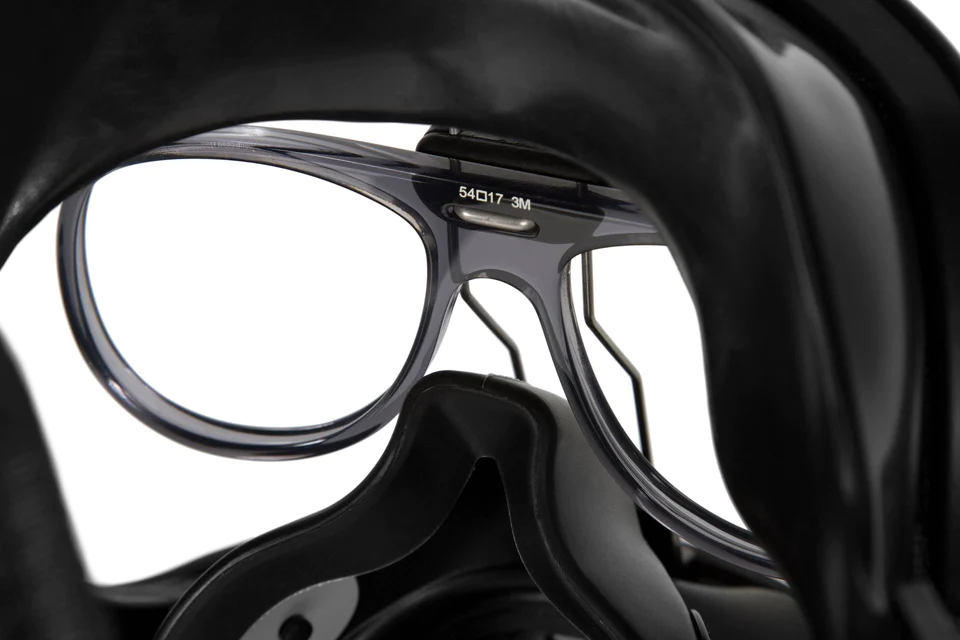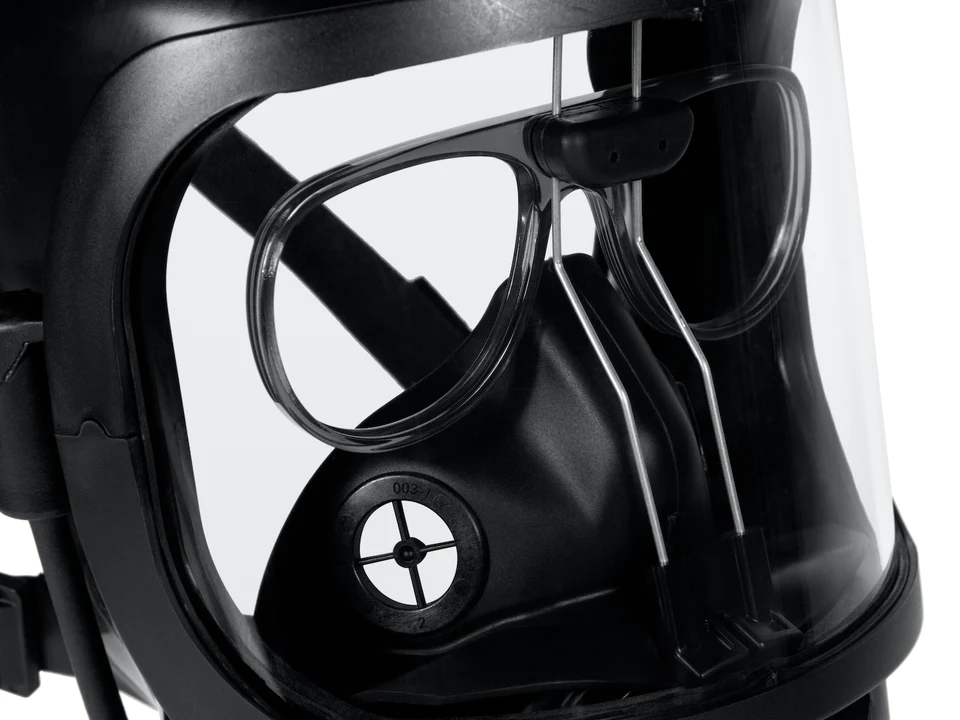 The material of the facepiece (bromobutyl rubber) on this NATO gas mask provides extraordinary protection against all known chemical warfare agents, along with biological, nuclear, radiological, and industrial chemical agents.
This tactical gas mask is designed to withstand long-term use in any weather conditions. The inner mask features comfortable hypoallergenic construction that reduces the content of carbon dioxide in the mask and regulates the flow of inhaled air to prevent fogging for more comfortable all-day use.
The inhalation chambers on this army gas mask are fitted with the Rd 40 x 1/7" thread in accordance with the EN 148-1 (NATO) standard. This ensures compatibility with the widest range of filters readily available on the market today.
These military-grade gas masks are manufactured under the permanent supervision of a representative of the Türk Ministry of Defense and are trusted by military and police users in a wide variety of countries.
The lenses of the CBRN Gask Mask 2 warfare mask are specifically crafted to ensure compatibility with all kinds of optical devices while providing a sufficient field of vision. The dual lens configuration provides superior depth perception when compared to a single panoramic faceplate, making it ideal for use with rifle iron sights or in combat.
The CBRN Gask Mask 2 nuclear gas mask is equipped with a drinking system that enables safe drinking in contaminated areas.  The drinking system is also compatible with CamelBak hydration systems.
CBRN Gas Mask 2 MILITARY GAS MASK SERVICE LIFE
The storage and service life of the CBRN Gask Mask 2 full-face respirator / tactical gas mask is 20 years from the date of production, provided that the recommended storage conditions are observed.
| | |
| --- | --- |
| Size No. | Size in inches |
| Size 1 | 5.19 – 5.51 inch (small) |
| Size 2 | 5.51 – 5.82 inch (medium) (universal most used) |
| Size 3 | 5.82 – 6.14 inch (large) |
To size yourself, it would require a device called a faciometer which is not very common.
Size 2 (medium) fits 95% of the population, so if you're an average size person, we would suggest size 2. For smaller than average people who weigh 130lb or less, with thin faces, we would suggest size 1 (small). For users over 250 lbs and wide faces, go with large.
You will know the size is right if you do a negative pressure test (blocking the inhalation valve and taking a deep breath), and the mask seals tightly to your face.